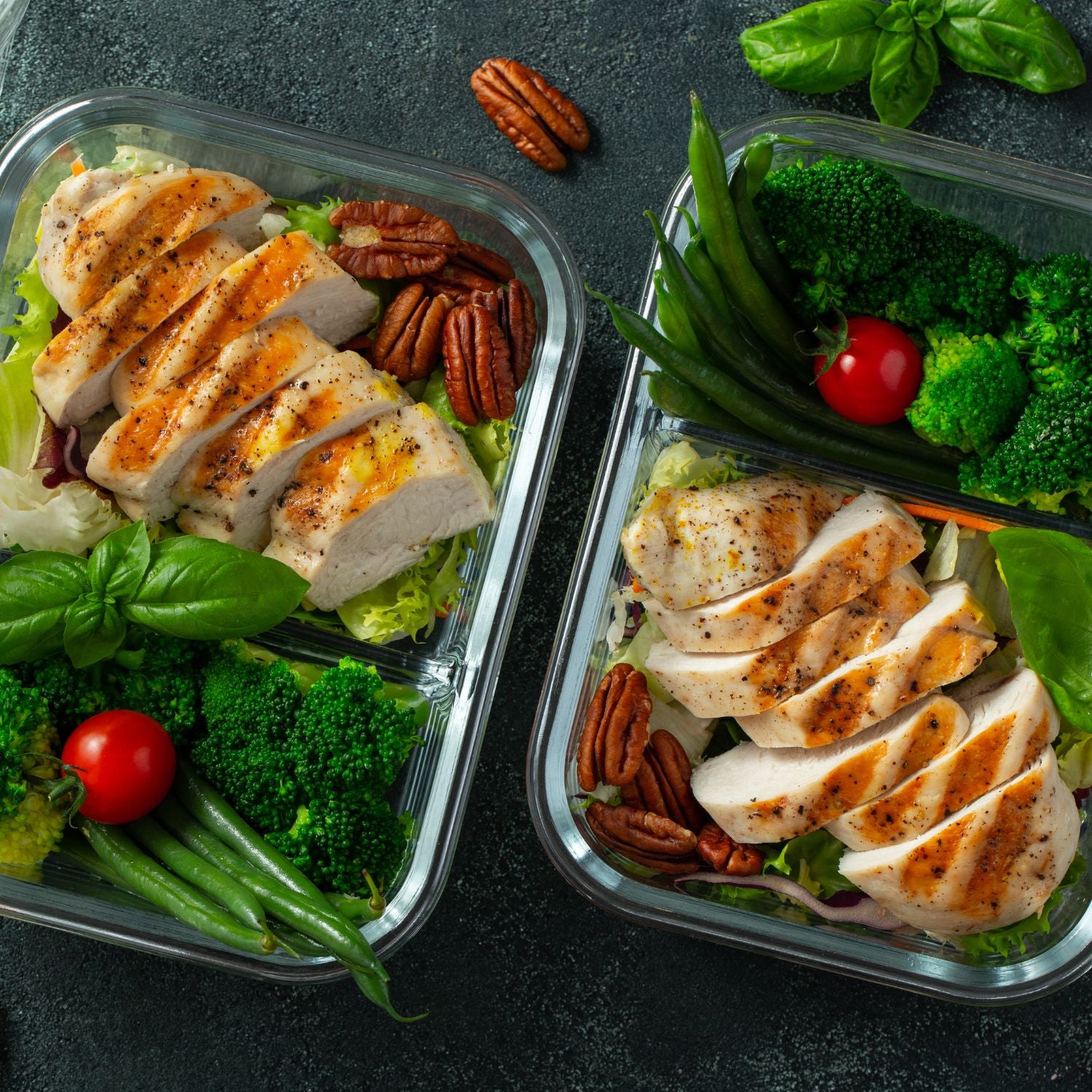 A Comprehensive Guide to Keto Meal Preps
When it comes to maintaining a ketogenic diet, keto prep meals are key.
Having a well-thought-out plan for your meals throughout the week can help you stay on track, optimize your nutrition, and save valuable time and effort. In this comprehensive guide, we'll dive into some of the best strategies and ideas for easy and cheap keto meal preps.
Understand the Basics of Keto Diet
Before we delve into the specifics of keto meal / snack preps, let's first understand the basics of a ketogenic diet. A ketogenic diet, also known as a keto diet, is a low-carb, high-fat dietary regime with a moderate amount of protein. The typical macronutrient ratio for this diet is about 60-80% fat, 10-30% protein, and under 10% carbohydrates.
The primary goal of a keto diet could be weight loss, improved health, or enhanced mental and physical performance. A well-balanced keto diet is not just about consuming meat; it includes a good amount of low-carb vegetables and healthy fats.
However, following a keto diet can be challenging, especially for beginners. This is where the concept of keto meal preps comes in handy.
The Significance of Keto Meal Preps
Keto meal preps play a vital role in easing your diet regimen. By planning and preparing your meals ahead of time, you can ensure you're consuming the right amount of macronutrients while also saving time.
Meal prepping also helps in preventing waste and avoiding costly takeout meals. Furthermore, it helps you stay on track with your diet, as having keto-friendly meals ready at hand can reduce the likelihood of opting for high-carb food options.
Getting Started with Keto Meal Preps
Starting with keto meal preps can be overwhelming, especially if you're new to the concept. However, a few simple steps can make the process smoother and more efficient:
Plan Ahead: Start by planning your meals for the week. This includes breakfast, lunch, dinner, and any snacks you may need.
Choose Keto-Friendly Recipes: Choose recipes that are low in carbs and high in fats. The internet is a treasure trove of keto-friendly recipes, so take your time to find the ones that appeal to you and fit your dietary needs.
Shop Smart: Make a shopping list based on your meal plan and stick to it. This will not only save you time at the grocery store but also prevent you from buying unnecessary items.
Prepare in Bulk: Cooking in bulk can save you a lot of time during the week. Prepare your meals in large quantities and store them in the fridge or freezer.
Store Properly: Proper storage is essential to keep your meals fresh and tasty. Use airtight containers to store your meals and keep them in the fridge or freezer as appropriate.
Top Keto Meal Prep Ideas
Now that you have a basic understanding of how to start with keto meal preps, let's explore some easy and cheap keto meal prep ideas that you can try.
1. Keto-Friendly Egg Muffins
Egg muffins are a versatile and portable option for a keto breakfast or snack. You can customize them with various vegetables, cheeses, and meats according to your preference. The key is to use eggs as the primary ingredient, providing you with a good source of protein and healthy fats.
2. Keto Chicken Salad
A keto chicken salad is a nutritious and filling option for lunch or dinner. It's typically made with diced chicken, mayo, and a variety of vegetables. You can also add some boiled eggs or avocado for extra protein and healthy fats.
3. Keto Zucchini Fritters
Zucchini fritters make a delicious and healthy keto-friendly snack or side dish. They're typically made with grated zucchini, eggs, and almond flour or coconut flour for binding. You can also add some cheese or herbs for additional flavor.
4. Keto Mexican Cauliflower Rice
Mexican cauliflower rice is a low-carb alternative to traditional Mexican rice. It's typically made with riced cauliflower, tomatoes, onions, and a variety of spices. You can also add some chicken or ground beef for extra protein.
5. Keto Pizza
Believe it or not, you can enjoy pizza on a keto diet. The trick is to use a low-carb pizza crust made from almond flour or coconut flour. For the toppings, stick to low-carb options like meat, cheese, and low-carb vegetables.
6. Keto Pancakes
Who said you can't enjoy pancakes on a keto diet? Keto pancakes are typically made with almond flour or coconut flour and are served with sugar-free syrup or fresh berries. They make a delicious and satisfying breakfast option.
7. Keto Beef Jerky Pizza
For a unique and flavorful keto meal, try making a beef jerky pizza. The crust is made from a mixture of ground beef and cheese, and the toppings include beef jerky, cheese, and low-carb veggies.
8. Keto Sub in a Tub
If you're a fan of sub sandwiches, you'll love the keto sub in a tub. It's essentially a deconstructed sub sandwich served in a bowl without the bread. It's packed with proteins like ham, turkey, and roast beef, along with cheese and veggies.
9. Keto Egg Salad with Bacon
An egg salad with bacon is a delicious and satisfying keto meal. It's typically made with boiled eggs, mayo, and crispy bacon. You can serve it on lettuce leaves for a low-carb wrap, or eat it on its own.
10. Keto Broccoli Casserole
A keto broccoli casserole is a comforting and hearty meal that's perfect for dinner. It's typically made with broccoli, cheese, and a creamy sauce. You can also add some chicken or bacon for extra protein.
Conclusion
Incorporating keto meal prep into your routine can help streamline your diet and ensure you're consuming the right balance of macronutrients. With a bit of planning and preparation, you can enjoy a variety of delicious and nutritious keto meals throughout the week. Remember, the key to a successful keto diet is consistency and preparation, so start your keto meal prep today and reap the benefits of this healthy lifestyle.